4WD Nissan Trucks Near Milford, CT
If you're looking for a truck that can handle any terrain, look no further than our Nissan trucks with 4WD! At our Nissan dealership near Milford, we have a wide selection of Nissan pickups that come equipped with 4x4 capabilities so that you can confidently take on whatever weather and road conditions lie ahead.
But what exactly is 4WD, and which Nissan trucks have it? Check out our Nissan 4x4 overview below, then head to George Harte Nissan to speak with our team of auto experts!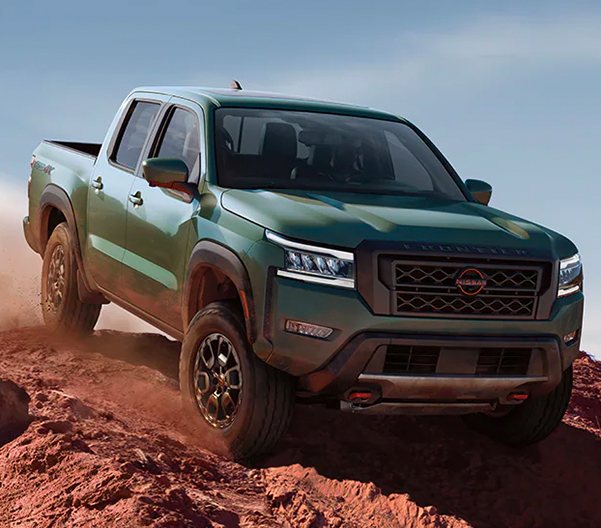 What Is 4WD?
Simply put, 4WD (four-wheel drive) is a drivetrain system in which all four wheels of the vehicle receive power from the engine simultaneously. This means that when one or more wheels lose traction, the other wheels can compensate and keep the truck moving forward. Essentially, it provides better traction for off-road adventures or driving on slippery surfaces.
It's important to note that 4WD is different from AWD (all-wheel drive), which provides power to all four wheels at all times for improved handling on various road conditions.
What Nissan Trucks Have 4WD?
Our Connecticut Nissan dealership offers several different Nissan trucks with 4x4 capabilities:
Nissan Frontier: The Frontier is a midsize pickup truck that comes standard with rear-wheel drive but offers an available switch-operated 2-speed transfer case 4WD system for those who need extra capability.
Nissan TITAN: The TITAN is a full-size pickup that also comes standard with RWD while offering an available 4x4 system.
Nissan TITAN HD: The TITAN HD is essentially the heavy-duty version of the regular TITAN. Four-wheel drive comes standard on the TITAN HD.
If you'd prefer to take on your off-road adventures in a family-friendly vehicle, you'll be happy to know that we have 4x4 Nissan SUVs for sale near Milford as well: the Pathfinder and Armada.
Buy Nissan 4x4 Trucks Near Me
No matter if you're looking to enhance your off-road capability or improve traction during inclement weather conditions, there's a Nissan truck with 4x4 waiting for you! Contact George Harte Nissan today to check out our inventory and take a test-drive. Our team will be happy to answer any questions you may have and help you find the perfect 4WD truck for your needs.